Classy, fun, crazy, artistic, sexy, stylish… There are no limits to the current nail trends of 2021 and Bella Lei has you covered. Check out these styles showcased by Hollywood trend setters…
Kylie Jenner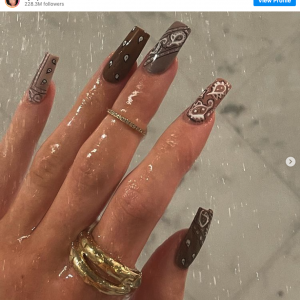 Always defining the next trend, Kylie is showing off some amazing chocolate colors with a custom hand drawn bandana inspired print.
Millie Bobby Brown
They say "history repeats itself", well it is true again with this updated beautiful iteration of French tips. Millie's version stepped it up a notch with a rhinestone stud on each nail bed for a flash of bling.
Demi Lovato
Demi's nails push the envelope with multiple trends. A beautiful and modern French manicure with butterfly-appliqués. There are thousands of appliqués available and it is a great way to show off your individuality.
Kylie Jenner
Outside of her "claw" comfort zone, Kylie features a more natural looking nail with cute vibrant rainbow tips.
Bella Thorne
Iridescent nails continue to be the rage in 2021. Now that we can escape the confines of our houses, why not sparkle with a fun shimmery color.
Bella Lei can help you express your personality with any of these trends and many more. Schedule your appointment today.