Make Up
Makeup lesson
Elevate your makeup routines with a makeup lesson!

With one of our experienced aestheticians, you will learn how to find the perfect colors to compliment your skin tone and the most appropriate products for your skin type. Techniques and tool selection will also be included in this hand-on, inactive experience!

Great for teens just beginning their beauty journey and those that want to change things up a bit.
Makeup Applications
Allow your natural beauty to be enhanced with a customized makeup application tailored specifically for you!

Using skin honoring and plant derived ingredients in our makeup, we can prepare you for special events and occasions or help you find the perfect intuitive colors that bring out the most beautiful you.
Special Occasion Makeup
Make your special day even more memorable. Our beauty artists are skilled at providing you with the perfect look that enhances your natural beauty and compliments your attire.

Have a specific "look" that you want? From Elegant to Edgy and everything in between, our staff has years of experience providing photo fresh looks that will impress for a lifetime.
Special Occasion Makeup
75
Lash Extensions
Add length, volume and thickness to existing lashes with a beautiful synthetic lash product that are practically undetectable to you or anyone else. Bella Lei is proud to offer eyelash extension services.
| | Price | Time | 1-2 Week Fill | Time | 3-4 Week Fill | Time |
| --- | --- | --- | --- | --- | --- | --- |
| Classic | $165 | 2 HRS | $55 | 1 HR | $85 | 1.5 HRS |
| Hybrid | $195 | 2 HRS | $65 | 1 HR | $95 | 1.5 HRS |
| Volume | $220 | 2.5 HRS | $80 | 1.5 HRS | $110 | 2 HRS |
| Mega | $275 - 300 | 3+ HRS | $125 - 150 | 1.5 HRS | $180 - 200 | 2.5 HRS |
Mega Volume sets/fills will be based on density of lashes, to be determined at appointment
1 -2 Week can be listed as "light fill" and must be within 13 days of original appointment
3-4 Week fill can be listed as "regular fill" or even as "fill" and must be within 14 – 24 days of original appointment
After 25 days of original appointment, any service will be full price
Frequently Asked Questions
What are Eyelash Extensions?
Eyelash Extensions are synthetic semi-permanent fibers that are attached to each of your individual eyelashes, one at a time, with a minute amount of special long-lasting waterproof adhesive. They will add length, thickness, and fullness that can't be achieved with traditional makeup.
How long do Eyelash Extensions last?
Eyelash extensions are an ongoing service. They must be refilled every 2 to 5 weeks depending on many factors including your lifestyle, skin type, etc. At the Refill service, the technician will remove (not trim) any lashes that have grown out or become loose with a special Adhesive Remover. New extensions will also be applied until the eyelashes are full and complete. They do require some maintenance and aftercare instructions must be followed for best results. Please consult your lash artist for a detailed description on how to properly care for your lash extensions.
How long does it take to apply a full set of Eyelash Extensions?
A nice full application of Eyelash Extensions will take anywhere from 1 to 3 or more hours depending on the desired lash look. This is a very tedious, time consuming procedure if done correctly, but the results are definitely worth it!
How many Eyelash Extensions are applied on each eye?
Generally, 30-60 lash extensions are applied to each eye, depending on the level of dimension desired. The result is long, beautiful, and natural looking, lush eyelashes. Remember that you are limited to the number of natural eyelashes available that eyelash extensions can attach to. Even sparse eyelashes can be greatly enhanced by the application of eyelash extensions!
Do Eyelash extensions hurt?
No. If correctly applied, the products do not contact you skin and you won't even notice that you are wearing them. The application procedure is painless; they are not "woven" in and there are no punctures in the skin.
How much do eyelash extensions cost?
(See Above) The fees for professional eyelash extensions vary according to your location and technician. Refill fees will be determined by the technician. It is very important to know that all clients have different needs. Certain factors like lifestyle, weather (humidity, extreme cold and heat, etc.), and swimming play a part in the longevity of your lashes. At the first refill, usually 2 weeks after the initial set, your technician will determine a schedule of appointments to keep your new lashes looking great.
How can I make eyelash extensions last longer?
Your lash technician will review aftercare instructions with you and suggest products that will help you maintain your new eyelashes. Constantly rubbing your eyes or cleaning them vigorously will certainly decrease their longevity. Do not use any cleansers that contain oil or apply mascara to your lash extensions as this will cause the adhesive to lose integrity.
Will Eyelash Extensions make my own eyelashes fall out?
Not if the eyelash extensions are properly applied. Your natural lashes shed every 30-120 days, but do not pick or peel at any lash extensions; this will cause alopecia of the natural lashes, resulting in permanent damage! Lash technicians are trained in proper application and removal methods to prevent any long term damage.
Can I swim with eyelash extensions?
Most people will be able to swim and enjoy water activities. Swimming can shorten the life of the extensions for some people. Everyone is different. Showering with hot water can also affect the extensions. The adhesives are waterproof but the hair shafts absorb water which can loosen the adhesive bond. Unfortunately, there is not a correct answer for everyone. As with all skin, hair, makeup or body products, everyone can react differently to the same product.
My eyelashes are sparse; will Eyelash Extensions make my lashes look thicker?
Your existing lashes will appear thicker but you are limited to the number of eyelashes that you have. Depending on your technician's skill level, advanced techniques can help you achieve a fuller look.
I do not have any eyelashes. Can I get Eyelash Extensions?
No. The extensions must have hairs to adhere to but your technician may be able to help you with strip lashes and makeup techniques.
Can I wear mascara with Eyelash Extensions?
One of the biggest benefits of wearing eyelash extensions is that you no longer need mascara. Any type of mascara, even the brands that say they are designed to be compatible with eyelash extensions will lower the integrity and lifespan of your lash extensions. It is highly recommended you do not apply any mascara while having eyelash extensions.
What lengths of lash extensions are available?
There are many different lengths, dimensions and densities when it comes to eyelash extensions. Depending on the desired look, a combination of each may be used. Prior to application, you will consult with your lash technician about what you are trying to achieve with your lashes. The most common styles include a classic set, which is the most natural, a volume set, which is where multiple lash "fans" are adhered to the natural lash creating a slightly more dramatic look, a hybrid set, which is a combination of both volume and classic, and a mega volume set which is a very dramatic volume look. Styles, lengths and curls are all dependent on your natural lash density and your certified lash technician will gauge which one will best suite you to create your dream lash look.
Micro-blading and Micro-shading
Micro-blading and micro-shading are techniques used in permanent makeup applications for the individual whose brows are thin, sparse, or lacking in shape.
Using a special set of tools, micro-blading/micro-shading can recreate the look of real hairs, for the most realistic appearance possible. The pigment used during this semi-permanent procedure is a special blend, making it less concentrated than regular tattoo ink.
As a result, it makes the brows softer and much more natural. Unlike a traditional tattoo, the process of implementing the pigment into the skin is much less invasive- the needles used in permanent makeup application do not penetrate the skin as deeply. Micro-blading/micro-shading may last anywhere from 1 to 3 years, depending on skin type.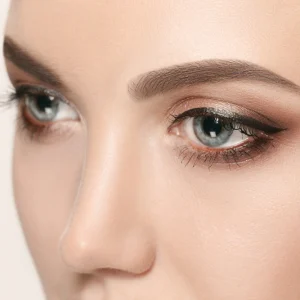 First Appointment
Price: $450.00
Time: 2.5hrs
Touch-up appointments
4-6 weeks after first appointment
Price: $50.00
Time: 1.5hrs
Touch-up appointments
After 6 weeks
Price: **see below
**chargeable, based on the discretion of the artist/intensity of the needed touch-up.
Frequently Asked Questions
What is the difference between micro-blading and micro-shading?
Micro-blading uses a special tool with multiple needles that create a "blade". The process of micro-blading is a much more precise process that creates the individual hair-like strokes, making it as realistic as possible. Micro-shading uses a specially designed permanent makeup tattoo gun to add shading and dimension into the brow. Based on the client's brow-goals, either process may be used during the procedure. A "powder brow" is strictly micro-shading and is typically done when there is a desire for a more filled in, make-up look. The term "combo brows" is simply the combination of both techniques.
Although micro-blading/micro-shading may not be penetrating as deeply as a traditional tattoo, the process can still be uncomfortable. Numbing cream may be used throughout the procedure, but normally is not recommended due to the fact the active ingredient inside most numbing agents tends to thicken the skin which can ultimately lead to the rejection of the pigment, or alter the healing process. Most clients compare the pain to that of a bad sun-burn, or a skinned knee.
Every person's brows are different in their own unique way. Therefore, no stencils are used. A consult will happen before each procedure, discussing the desired look of the brows, which includes a "mapping" of the overall look, following the natural bone structure of each client, to ensure the brows fit the frame of the face.
After the initial micro-blading/micro-shading appointment, you will need to come back in 4-6 weeks for a touch-up appointment. This is to see how the original procedure has healed and where the final details can be added into the brows. Color may be adjusted and shape may be altered during the touch-up appointment. After the second touch-up, it is possible to need touch-up's every few years for maintanence. Since the pigment is specially formulated, the skin slow metabolizes and breaks down the structure of it, resulting in the pigment to fade over time.
Who is a good candidate for micro-blading/micro-shading?
Almost anyone can get micro-blading/micro-shading done, but there are few contraindications that can change how the process heals. Skin type plays an important role in how the pigment takes to the skin. Oilier skin types may have a harder time holding on to the pigment, and may require more than 2 procedures to ensure proper and safe implementation of the pigment. Another contraindication may be health conditions or certain medications that thin the blood. Since micro-blading/micro-shading uses needles, and does penetrate layers of the skin, there will be a presence of blood during the procedure. If the blood cannot properly clot throughout the appointment, it is possible the pigment may not fully implement below the surface of the skin. If you are unsure you will be a good candidate for any permanent make-up applications, consult your doctor as well as your permanent make-up artist before going ahead with the process.